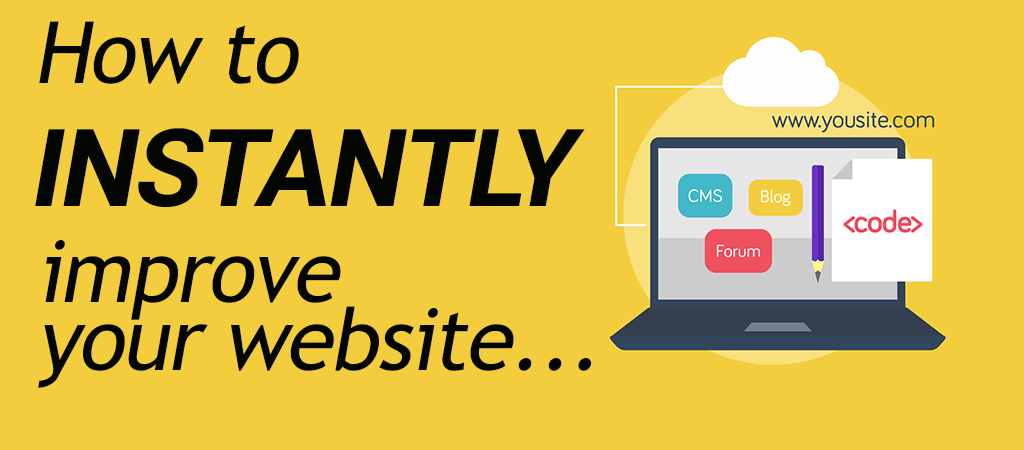 It's time to improve your website design, instantly! Let's visit your company website and revamp it into something modern that your visitors will love.
Allow me to share some of my easier tips to help you give your site a boost without spending a penny.
Do I need to enhance my site?
As you look to make strides online, your company website is the first impression that new customers will remember.
Let's make them remember you for all the right reasons.
Do not worry, this is not an article about a total re-write.
There are just a few pieces of tips on a revision that anybody can action.
These little updates may help your site turn the corner.
The way we browse the internet is changing
In 2021, they expect mobile data traffic worldwide to reach 49 exabytes per month at a compound annual growth rate of 47 percent.

People are now browsing on mobile devices Source: The Statistics Portal
Website visitors will continue to change.
Your new customers will adapt to how they view and consume what is on offer online.
They will access your website differently and expect a faster, smoother, error-free experience.
So let us crack on and give it a leg up into the modern age.
Instantly improve your website for free
To instantly improve your website, first we need to make one or two assumptions as set out below;
You are using a content management system like WordPress or Joomla
You have access to edit the content (Editor or above)
These changes and tweaks will take place inside the area where you would add content
Please remember that this list a simple to follow guide only, for a detailed analysis that will deliver a comprehensive improvement report, why not try asking me to complete a sample on one of your service/product pages?
Improvements that anyone can do on website content pages
Add a well-written title that tells everyone what your page is about
Make sure every page has a "Contact" link in the menu
On the resulting contact page add your telephone number, email address and other methods
If possible, add your preferred contact methods into a defined area on every page
Check your copy, remove any underlined text that is not a link
To emphasise points, make your comments strong (or use CSS to define elements consistently)
Check your navigation. Make sure that your menu items are the same on all pages.
You can make these changes with a little research
Check that you have uploaded image files that are as small as possible
Use this free image optimiser, to shrink them online* if you need to
To optimise via a WordPress plugin, why not try this free one*
To optimise using a Joomla extension, this free one is worth a try*
Tweak your content and add relevant functions only
Update your plugins to the latest version
Carry out these updates with your webmaster
Make sure your pages are fast loading. Learn why this is important.
If you have a large website, construct a site map. Your visitors will thank you.
Check and submit a sitemap to Google and Bing
Audit your layout to determine your preferred scheme and add it to every page
Always look at ways you can improve your website, they are always growing, so are your users
*I have no affiliation with these tools
That's my list and as you can see, when you look to improve your website, you can achieve this easily if you set your mind to it.
You note that I have not added too much about the design aspect, as this is mainly subjective.
An excellent design to one may be awful to another.
Thanks for stopping by.